This completely took off in a direction I hadn't intended, but none-the-less ended up exactly how I wanted it. Basically, this mix spans the end of Rory and Dean's relationship on the show to
my wishful thinking
some future rekindling of their romance. :3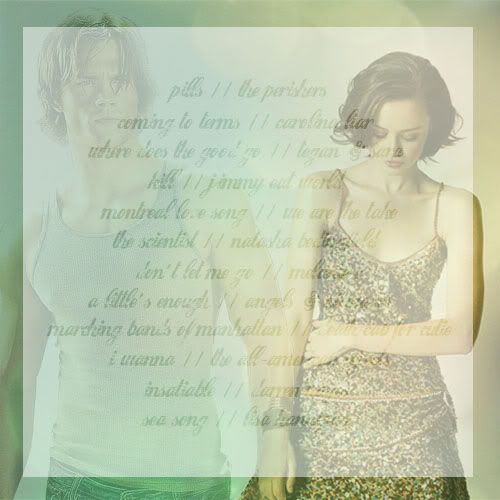 Let Me Stay a Little Longer
pills // the perishers
I hope my smile can distract you
I hope my fists can fight for two
So it never has to show
And you'll never know
I hope my love can blind you
I hope my arms can bind you
So you'll never have to see
What we've grown to be
coming to terms // carolina liar
'Cause this hurts, I can't leave
I understand, but can you
I'm just scared, you're lonely
Everyone knows you're better than me
where does the good go // tegan & sara
where do you go when you're in love and the world knows
how do you live so happily while i am sad and broken down
what do you say it's up for grabs now that your on your way down
where does the good go
where does the good go
kill // jimmy eat world
So go on, love
Leave while there's still hope for escape
You gotta take what you can these days
There's so much ahead and
So much regret
I know what you wanna say
I know it, but can't help feeling differently
I loved you
And I should have said it
But tell me, just what has it ever meant?
montreal love song // we are the take
I can't breathe in the space that's filled with your sound
Can't call a spade a spade in this town
Dug a hole; now I can't get out
I can't figure it, I can't figure it out
Out
Keep your head up high
Keep mine deep in the ground
Hide away the love that I've found
Built a wall now I can't get 'round
the scientist // natasha bedingfield
Oh tell me you love me
Come back and haunt me
Oh and I rush to the start
Running in circles
Chasing our tails
Coming back as we are
don't let me go // melanie c
There's times when fake goodbyes made you cry
But this time you don't
And I was only joking I was broken when you told me to go
Don't make up the wrong mind
Don't forget the good times
Let me stay a little longer cause if I'm gone
I can't make it right
a little's enough // angels & airwaves
I'm sorry I have to say it but you look like you're sad
Your smile is gone, I noticed it bad
The cure is if you let in just a little more love
I promise you this, a little's enough
marching bands of manhattan // death cab for cutie
I wish we could open our eyes
To see in all directions at the same time
Oh what a beautiful view
If you were never aware of what was around you
And it is true what you said
That I live like a hermit in my own head
But when the sun shines again
I'll pull the curtains and blinds to let the light in.
i wanna // the all-american rejects
Tonight I'm weak
It's just another day without you
That I can't sleep
I gave the world away for you to
Hear me say
Don't throw me away
There's no way out
I gotta hold you somehow
insatiable // darren hayes
[metro mix]
When moonlight crawls along the street
Chasing away the summer heat
Footsteps outside somewhere below
The world revolves I let it go
We build our church above this street
We practice love between these sheets
The candy sweetness scent of you
It bathes my skin I'm stained by you
And all I have to do is hold you
There's a racing in my heart
I am barely touching you
sea song // lisa hannigan
there's one girl I like she's a smile on a monday
and she'll fight to stay so
and she's like the sun on the weekend
and though she is like the sea and she's right to be so
still i like that she sails with me
...
there's one man so bright he blocks the light
and he'll always be so
he's like no sleep on the weekend
and though he is like the sea and he's right to be so
when i hold tight i sink down deep